Create a website for your small business in less than two weeks!
Build a great-looking website with a great design that can be your business' home online for under $1,000 today.
Whether you're just starting out with your business or you've been around for a while, you need to have a website so people can find you. But creating a website for your small business can take a long time and a lot of money to create — two things you might not have right now.
This process simplifies everything to make it as quick as possible for an affordable price. I'll work with you to find a design that matches your business and what you want for your website. I'll set it up for you with the content added, add in any additional add ons you want for your website and make sure that it's set up to be the best it can be.
Once the website is launched, your website will also be on top-tier web hosting with managed updates, security checks and fixes and even SEO and analytics help to make sure your website is helping your business grow!
Plus you'll get live training on your website as well as a knowledge base of how to do various things on your website. You'll have an expert with you the entire time.
And all of this will be ready to go live in under two weeks. Your business will be online in basically no time with almost no effort. It's the perfect way to create your small business website.
So whether you just need a basic website so people can find you through Google searches or you want to sell products and services online or anything in between, let's work together to get your new website launched this month.
Quality Website to Start Your Online Presence
Your website will be built using WordPress and a design of your choosing. Plus it will come with everything you need to start your online presence, from SEO to performance, security, accessibility and more!
Post Launch Website Care and Support
There's no need to worry about the technical side of the website after it's launched. I will provide the hosting, managed updates, security and more for you. You just need to focus on growing and running your business.
Training on how to use the website
Once the website has been launched, I will walk you through how you can use your website to manage content and grow your business. Plus, you'll have access to a knowledge base to help you do anything you want with your website.
Steps in the Process
When you're ready to get started on your new website, you can fill out the form on this page and choose any add ons you want to start the entire process. You can also choose to schedule a time for your free consultation to learn more about the process before you make your decision.
Once you're ready to get started, I will walk you through some of the best design templates I think will work best for your website and business. You can then choose from one of those templates or suggest another one that you might like and we can start the website building process.
Once the template has been picked, I will get to work creating the website for you. I'll add in the template and any plugins needed to make the website work. Plus, I will add in the content, including products if you're creating an online store, and get the website looking perfect for you to review.
Once the website is all set up and you're happy with the way it looks, I will launch the website. If we're switching out an existing website, I'll work with you to find a good time to make the switch so your customers don't experience any issues. Otherwise, we'll flip the switch to live and your business will be online!
Once the website is live and everyone is happy with the way it works, I'll schedule time with you and whoever is running the website to walk you through how to use your website. We'll discuss how to create pages, posts and products, manage your media and even start to discuss analytics so you can know what's working and what's not working on your website.
What You Will Get
Website to match your business and design preferences
Custom domain name
Google Business Profile (Google My Business) setup
Content added from your onboarding form
Google Analytics and Search Console setup
Live training on how to use your website
Access to a learning library and community of website owners
Weekly website updates
Add ons include: online store, membership website, additional landing pages, customized blog templates and more!
Base price: $899 + $50/month for web hosting and care
Start Creating a Website for Your Small Business Right Now!
Ready to start on your new small business website right now? Awesome! The link below will take you to a page where you can build your starter kit, from the various add ons you might want (like an online store) to the website care plan. From there we'll get started on making your new website a reality!
Learn More About the Website Starter Kit
Want to learn more about what the Small Business Website Starter Kit is and how it can help your business? You can use the form below to download an informational guide on the starter kit or sign up for a free consultation where you can talk with me directly about the starter kit.
Previous Works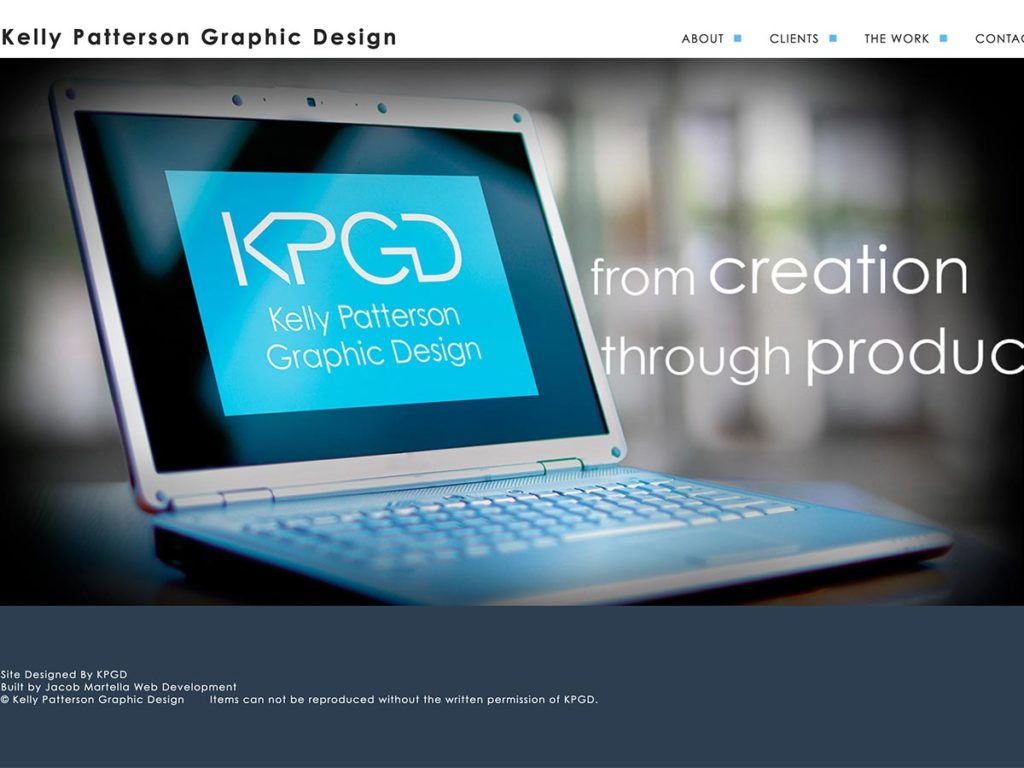 What Others Have Said
Kelly Patterson
Kelly Patterson Graphic Design
I am extremely fortunate to have gotten to meet and work with Jacob. He takes my web designs and brings them to life on the internet. He is very professional, knows his stuff, and delivers an outstanding product that is on-time and within budget. I look forward to working with him again on future projects. Small sites or large sites Jacob can do them all.
Christopher Harris
Faith Growth, Inc.
I have hired Jacob on many occasions for WordPress website development projects. Jacob is a professional, he communicates well, and delivers what is promised in a timely manner. I highly recommend him for your next WordPress project.
What Your Website Will Have
High quality website
Your website will be built with WordPress and be high quality. The themes that I suggest have all been vetted for their quality. And any plugins that are used will be checked for performance and security. This website will be something you can be proud of and can help start your business' online presence.
Content added for you
You won't have to worry about adding in the content to the website at the start. I will take all of the content you fill out in the onboarding form and add it to the website as I'm building it out. Plus, I can help double check it for spelling and grammar issues. You can sit back and relax.
Domain name
If you don't have your domain name selected already, don't worry. I will help you purchase the domain and get it set up on your website. I can walk you through how to select the perfect domain name that's memorable and beneficial to your website.
Dedicated landing page
Each website comes with a landing page (that's not the homepage) that can be created and used to advertise a sale or a special service that you offer. We can discuss this more as we work on building the website.
SSL Certificate
An SSL Certificate is basically a requirement for websites today, especially if you are selling products or services directly through your website. I'll take care of everything you need for SSL for you, so you won't have to worry about anything.
Search Engine Optimization
Search Engine Optimization is critical for any business looking to get found online. Your website will have all of the technical aspects of SEO built into it, plus I can provide you with resources and guidance on how you can boost your on page and off page SEO to help people find your business.
Security
Security is paramount for every website. And you won't have to worry about the security of your website. I will set things up so that your website is as hardened as possible. Plus, you will be able to select a WordPress Website Care plan that will add in even more security features to your website.
Accessibility
Everyone needs to be able to use your website no matter what technology that they use to browse the web. Your website will be built with accessibility in mind, and I will check it before launching it. Everyone will be able to use your website (and you won't have to worry about accessibility lawsuits).
Google Business Profile
If you want to increase your chances of getting found in a "near me" or Google Map search, you need to have a Google Business Profile account. I will take care of setting that up for you and filling in all of the necessary information so that you can start appearing in local searches.
Website hosting
Your website will automatically come with website hosting when it's launched. I use WP Engine for every website, and that gives you a very solid foundation for your website. You won't have to worry about your website going down at a bad time, and your website's performance will be as good as it can be.
Google Analytics and Search Console
In order to know if your website is working, you need to use analytics to track data. I'll get you started with Google Analytics and Search Console and walk you through how to use them so that you can see what pages people are going to as well as how people are finding your website and more.
Live website training
Managing a website can be a challenge for people, especially if this is your first website. After the website is launched, I will walk you and whoever might be managing your website to show you how to add content and products, make changes to your menu and more.
Website Knowledge Base and Resources
You will also have access to a knowledge base that can help you accomplish anything you need on your website. From just a refresher on how to manage the content to starting to learn about SEO or accessibility, you'll have access to that knowledge anytime you want.
Hours of changes and fixes
You will probably want to change something on your website that involves the code. And that's okay! Depending on the level of WordPress Website Care plan you select, you will get a set number of hours per month for these changes so that your website can look just the way you want it to.
Emergency Support
Things are going to break on your website. That's just how it is online. But you won't have to worry if and when your website will go down. I will take care of it as quickly as possible and get your website back on its feet. You can just sit back and focus on running your business.
Monthly check in meetings about your website
Websites aren't really something that you set and forget. You need to be actively using them and managing the site. If you want, we can schedule monthly meetings to discuss how your website is doing and what you might want to change to make it help your business more.
Online store (Add On)
Online selling is super popular in today's world. And you can easily add a store to your new website. I'll take care of setting up the store, adding in the products and getting you started with a payment gateway. Plus, you can add in things like automated shipping labels, custom email messages and more! It's the easiest way to create an online store.
Email Addresses (Add On)
Want to create an email address using your new domain name? It's totally possible. During the process I will take the time to also set up an email address for you using Google Suite so that you can have an official looking email address for your business.
Forums (Add On)
Creating a community around your business is a great way to drive referrals and build momentum. You can foster a great community right on your own website by adding in a forums section where you can control everything. I'll take care of everything from the styling to adding in any controls you need for a great community.
Membership Website (Add On)
Does your business offer courses or information that members are only allowed to see? I can help you create a membership website that keeps that content only available to your members.
Additional landing pages (Add On)
Are you having a sale of a product or for a holiday season? Or did you add a new service to your offerings? If you need additional landing pages to promote your products or services, I can help you create those pages in no time, whether it's before or after the website launch.
Advanced forms integrations (Add On)
Each website comes with Gravity Forms, as well as a basic contact form set up for you. But you can also choose to add in advanced forms integrations, such as MailChimp, Stripe, AgileCRM and more to take your forms to the next level.
Custom blog templates (Add On)
While each website will come with its own set of blog templates, you can also choose to customize those blog templates. Maybe you want to hide or show the featured image on single post pages. Or maybe you want to show the read time on the archive pages. I can create those for you.
Google Tag Manager setup (Add On)
While Google Analytics and Search Console are great tools, Google Tag Manager can take your analytics to the next level. I can help you get started with Tag Manager to help you integrate services like HotJar and more so you can really see how people are using your website.
Content creation (Add On)
Need help creating an about page? Or are you struggling with text for your homepage? I can help you create that content for your website so that it's ready for launch.
Ready to Take Your Next Step
If you're ready to learn more and to start the process of creating your new website, hit the button below to go to the sign up form.
Frequently Asked Questions
How long will the process take?
The website starter kit is designed to take two weeks or less to create and launch. The key to this, however, is you. If you're on time with getting your content in (including any photos and videos) and reviewing the website, we should have no worries hitting that deadline.
What is the $50 a month charge for?
That is for the ongoing WordPress Website Care plan your website will have. You will have the option to choose between each of the four plans available, but the $50/month plan is likely the best option for your website.
What do I need to have before this starts?
Everyone comes from a different starting point, but generally you should have a good idea for what you want your website to be, what content you want and have any photos or videos ready to go. We can talk through the specifics before the build process begins.
What if I don't have a domain?
There's no need to worry if you don't already have your domain. I can help you purchase a domain (since you should always be in control of your domain name) and how to pick the right domain name for your business.
What tools are used to build this website?
I use WordPress to build every website since it makes it both easy to create the website and for you to manage and add the content once the website is launched. Plus, there's an amazing community around it that I think you'll enjoy.
Why do you use WordPress for your websites?
WordPress is a great tool for creating and managing websites. It being open source means that you can control everything about your website and you own your content, compared to Wix and Squarespace. And the most "challenging" part about WordPress websites — creating the site — will be handled by me. You'll get to reap the benefits.
Why do you use a prebuilt WordPress theme?
Speed is the name of the game for a website starter kit, and prebuilt WordPress themes make it easy to get your website built quickly. Plus, the ones I suggest to you are of the best quality, and I can make color and other customizations to help them fit your business' branding and needs.
What plugins will you add to the website?
The exact plugins used will depend on what you want with your website, but there are a few that I will use on every website: Gravity Forms, Google Site Kit, Wordfence and Yoast SEO. You can learn more about why I use these plugins in this blog post.
Why do you use WP Engine for web hosting?
I've used WP Engine for hosting all of my websites since 2015 and have had no issues at all with down time. Plus, they offer a number of tools to help your website's performance, have automated and manual backups of all websites and feature top-quality customer support. It will help your website be the best it can be.